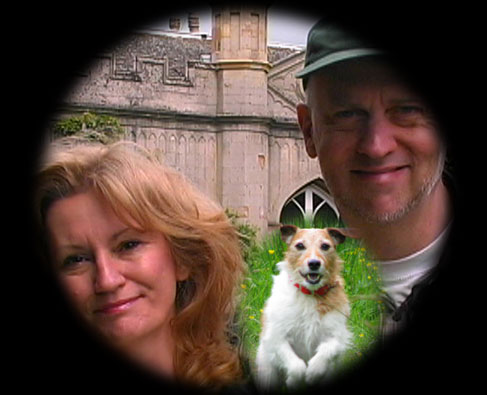 I grew up on the West Coast of America in Arizona and California in the sun, heat and desert. Beautiful country. Now I live with my husband Rob and our wonder pup Jack (see more of him at www.kernowjack.com) in Cornwall England in the rain, rain and more rain.
But even with the rain it's beautiful here. The beach is 10 minutes away and nearly always dry enough to take a stroll on.
We enjoy the desolate moors and their mysterious standing stones. They are truly magical to be around.
In spring we marvel how the earth becomes green again and the snowdrops, primrose and daffodils pop up their heads. We take walks among ancient trees surrounded in carpets of native bluebells and lavender rhododendron. All minutes from our door. A lot of inspiration for a writer artist.
My heart is here but it's also in the desert and my country, America. It always will be. We get back to my folks and kids and friends as often as we can.
I come from a long line of fine art watercolor painters but I'm not one of them. My talent runs sideways.
As for the ghost children. I love them. They are my babies. And I'm writing all out to save their dear little souls.
M L Allan