~ The night we arrived on Ravensbreath Island ~
Told by Annabel Lee
I awoke and stood up but my body did not come with me. It lay at my feet as if asleep.
Through the darkness, I could see the shape of my brother Percy and the children we were traveling with and felt much relieved.
As I watched them shuffle among their own bodies, I saw we were not alone. There were others, many others in that unknown place and they were shuffling as we were. The ghostly vision was frightening and I was afraid to move. But I had to. So ever so slightly I turned my head, squinted in the dark and saw by the corner of my eye someone looking at me. I could feel breath on my neck and began to tremble. With knees knocking, I spun round. Two huge eyes stared into mine. We both screamed for I had scared them as much.
My sudden break of the silence upset the others, especially Boo who can shriek for England. Now everyone was shouting and crying and moving about in a panic, but taking care not to step on their fallen body. Only Patch, the oldest of us children who was recovering from a shark attack, remained still.
"Oy!" he boomed, making us freeze. "Look about you. Do you not see what is in front of your very eyes? Reach out your hands like this."
We did as he showed and touched cold wet glass.
"Mirrors!" shouted Molly, swirling her hands in the slimy surface. It was true. We were inside a room, the round room of a tower, and the walls were lined with mirrors, mostly cracked. The darkness had played us a trick, distorting our reflections on to infinity. We were nine children in the room, no others were there after all. That was the story we believed at the time...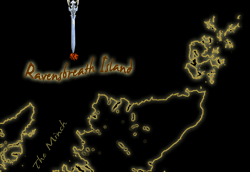 The Ghost Orphans of Ravensbreath Castle is a story currently in progress. This site is a good place to get to know them. There are tidbits (true and false) offered throughout this site and in their videos.
Say hello in their ghostbook guestbook. They would love to hear from you.