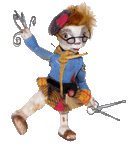 It is frightening here, in this non-living place
where the food is disgusting and a dreadful disgrace
Rat guts on toast is good once or twice
but eight days a week is not at all nice.
So sometimes when
we feel lonely or sad
or get a tad angry
or go stark raving mad
we come to the nursery with our ghost dolls in hand
and put on a show to make us feel grand.

We make up stories and sing songs that are true
and put them together to show me and you.
We get very silly and sing out of tune
we have to, you see, to banish our gloom.
So won't you stay and watch us play?
Your presence is what keeps us from fading away.
For no matter what magic we know how to do
we'd have vanished by now if it wasn't for you.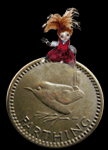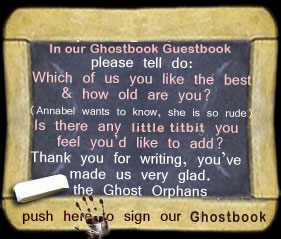 write to us ~ we will haunt you forever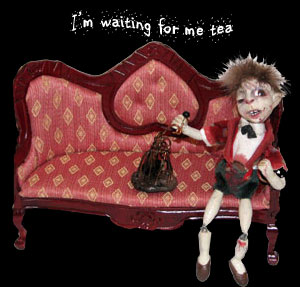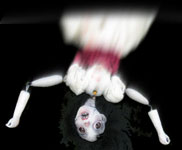 Twins Toby and Tinker try to warn Annabel Lee to be wary of the company she keeps, for demons and monsters lurk in the shadows of Ravensbreath Island.
(Song 'Not While I'm Around', from Sweeney Todd)

Molly's Lullaby to Baby
(Song 'Castle on a Cloud' from Le Miserables)
Ghost Orphan's Welcome film
(music from Edward Scissorhands)