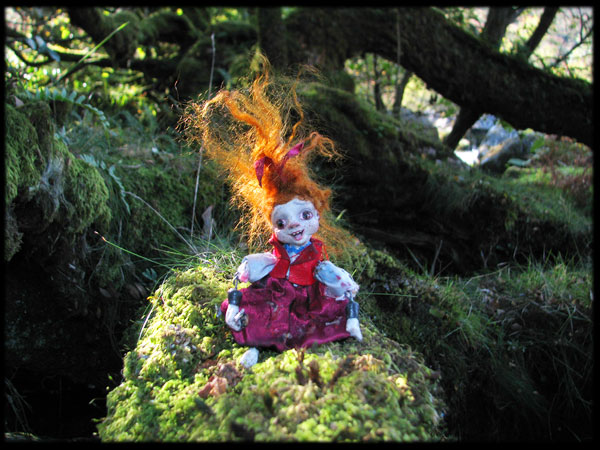 Molly loves her worms, slugs, spiders and bugs, as well as frogs, toads, anything goes, especially the slimy, gooey, nasty things that crawl, slither or splat. Here's her doll out at the copse searching for new 'friends.
Molly is kind but she is a warrior.

Molly's lullaby to Baby
(Song 'Castle on a Cloud' from Le Miserables)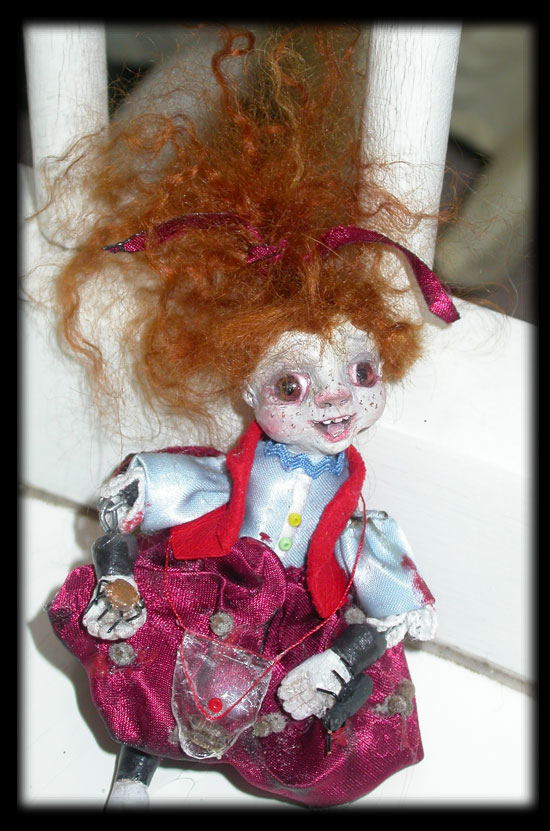 Showing her selection. Molly is never short of a few of the fellows. She doesn't mind getting mucky either. Someone like Molly can be very useful in certain sticky predicaments and the children do find themselves in them occasionally.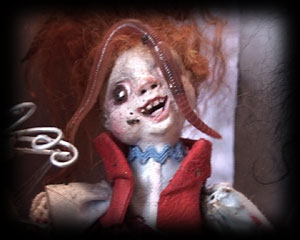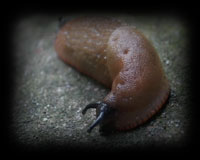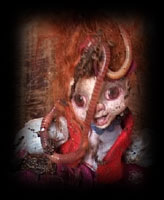 Molly plays in the dungeon, under the stairs, anywhere her insect friends live.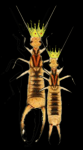 Molly keeps busy playing kings and queens with earwigs, placing them on tiny thrones made of leaves and wood chips.
The earwigs never stay even half a second but Molly knows they have battles to fight and kingdoms to win.
Molly knows that earwig queens make brave warriors.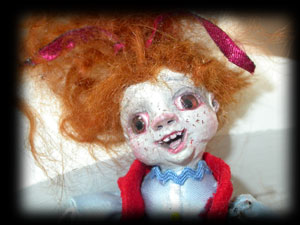 One Wednesday afternoon, or evening, or perhaps it was the middle of the night a hundred and twenty two years ago, Molly began making frocks and knickers for her multi-legged friends. She fashioned an emerald green waistcoat and matching bowtie from the wings of a dead butterfly for Charles d'Olivier, a friendly black beetle who often helped her collect scraps for her hobbies.


Charles d'Olivier looked suave and dazzling in his dapper duds and enjoyed showing off to friends. Even the ghost children were impressed, apart from Annabel Lee who wanted to step on Charles.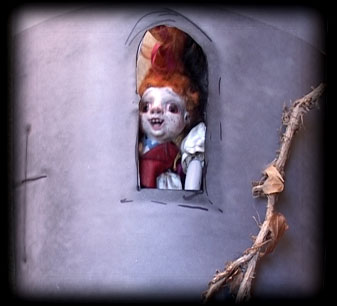 Molly is the most cheerful little scrap and few things frighten her or bring her down. But there is something that does annoy her, monsters. Monsters can't be reason with and are completely hopeless.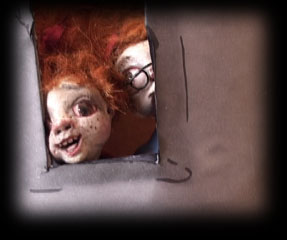 Unfortunately many of her insect friends live in ghoul infested neighbourhoods which requires playing among monsters and keeping a keen eye on the dark corners at all times.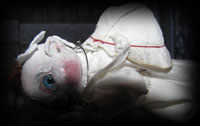 Often Molly goes with Toby and Tinker to play with Baby. The older children more or less keep away from Baby who is a real little BiG stinker, as you may know by now from the Bogey monster movie, for instance.
But Baby needs love and attention like everyone so Molly sings Castle on a Cloud to Baby (listen in the movie above) while Tinker rocks the cradle with his curly-whirly tentacles extended from across the room, and Toby turns the pages of a fairytale book. Soon Baby is fast asleep happy and content and stinky.
There is much more to Molly's story (and Tinker's Toby's and Baby's) and will be told in time.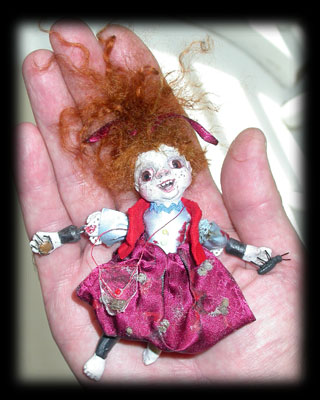 Molly will haunt you forever